Method
1
Place the cream, sugar and glucose in a pan and boil until it turns 122C. Use a sugar thermometer to check. Remove from the heat, add butter and mix it together.
2
Pour into a lined tray 15x20cm and sprinkle with salt. Leave in the fridge overnight.
3
Flip the tray onto a cutting board so the fudge slides out and cut into squares.
4
Store the fudge in the fridge for 2-3 hours until served.
Where to buy
Lurpak® Slightly Salted Butter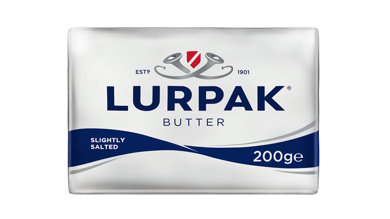 With Lurpak® by your side you're always ready to cook, bake and fry up wonders, cook. With its delicate taste, Lurpak® Slightly Salted Butter enhances the flavour of whatever food you add it to. From a hearty pasta dish, your showstopper fruit pie, to some simple rustic crushed potatoes, its subtle notes complement every creation you rustle up in the kitchen. For people who love Good Food, Lurpak® makes it even better. Now sleeves up. Today we cook bold.
Where to buy