WOK FRIED ASPARAGUS WITH SOYA AND GINGER
Method
1
Clean the asparagus by cutting 3cm off the ends.
2
Cut the garlic into fine, thin slices.
3
Peel the ginger and cut it into thin slices and then into thin strips.
4
Brown the Lurpak® butter in a wok with the garlic and ginger, when the garlic is golden, add the asparagus and fry it for 1 minute, add the oyster sauce and soya, toss it well together.
Where to buy
Lurpak® Slightly Salted Butter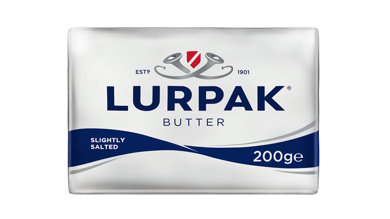 With Lurpak® by your side you're always ready to cook, bake and fry up wonders, cook. With its delicate taste, Lurpak® Slightly Salted Butter enhances the flavour of whatever food you add it to. From a hearty pasta dish, your showstopper fruit pie, to some simple rustic crushed potatoes, its subtle notes complement every creation you rustle up in the kitchen. For people who love Good Food, Lurpak® makes it even better. Now sleeves up. Today we cook bold.
Where to buy