MINI STICKY TOFFEE PUDDINGS
Method
Preheat the oven to 180C/160C fan/ gas mark 4
CAKES
1
Start by boiling the dates then set aside to cool. Once cooled, make a paste by mashing with a fork. Then mix in the vanilla extract.
2
Combine the flour and baking soda in a bowl.
3
In a separate bowl, beat the butter and brown sugar.
4
Once smooth, gradually add the eggs until well combined.
5
Alternating the flour and milk, start by mixing 1/3 of flour mixture into the eggs and molasses, then ½ of the milk, and continue until all is incorporated. Lastly, add the date paste and stir until the ingredients form an evenly-mixed batter.
6
Pour batter into greased cupcake pans, filling only ½ - ¾ full to leave space for them to rise.
7
Bake for 20-25 minutes or until firm and risen. Once baked allow for the cakes to cool slightly and then unmould. You may need to take a knife and gently loosen around the edges. While the cakes are baking, you can prepare the toffee sauce.
SAUCE
1
Melt the sugar and butter in a large saucepan.
2
Once the sugar crystals have dissolved, stir in the black treacle.
3
Add half the cream and allow the mixture to bubble for a couple minutes until the colour is dark amber.
4
Remove from heat, mix in the other half of the cream and allow to cool.
5
Pour over the warm cakes and serve.
Where to buy
Lurpak® Slightly Salted Butter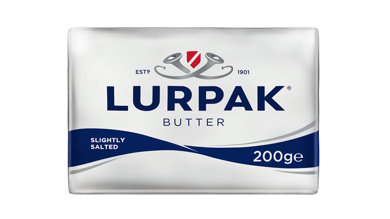 With Lurpak® by your side you're always ready to cook, bake and fry up wonders, cook. With its delicate taste, Lurpak® Slightly Salted Butter enhances the flavour of whatever food you add it to. From a hearty pasta dish, your showstopper fruit pie, to some simple rustic crushed potatoes, its subtle notes complement every creation you rustle up in the kitchen. For people who love Good Food, Lurpak® makes it even better. Now sleeves up. Today we cook bold.
Where to buy