SPICED VEGGIE FILO PARCELS WITH YOGHURT & DILL DIP
Method
1
Drain and rinse the chickpeas. Place in a bowl with a small pinch of sea salt and mash with a fork, retaining some texture. Cover and put to one side.
2
In a large pan melt 25g butter and then fry the onion and garlic over a medium heat for 3-4 minutes or until softened. Add in the eggplant and zucchinis and turn the heat up and cook for a further 2-3 minsstirring all the time, so nothing catches in the pan.
3
Once all the vegetables have softened, stir in the spices and mix until all the vegetables are coated. Stir in the tomatoes and harissa paste. Cook on a gentle simmer for about 20 minutes or until the vegetable are cooked and the sauce thickened. Stir in the crushed chickpeas, season with salt and pepper and set aside to cool.
4
Meanwhile, make the yoghurt dip by mixing the yoghurt, dill, lemon juice and zest.
5
Finally season with salt and black pepper.
6
Preheat the oven to 200C/fan 180C/gas mark 6 fan and line a baking tray with baking paper.
7
Melt the remaining butter in a small pan and set aside.
8
Lay out the filo pastry and cut into half and then half again, so you have 4 strips of pastry. Place 2 sheets of pastry on top of each other and brush with a little of the melted butter. Place 1 tbsp. of filling in one corner of the pastry leaving a 1cm border. Lift the corner of the pastry with the filling and fold over in a diagonal to create a triangle. Continue folding to the opposite corner keeping a triangle shape. Brush with a little butter as you go along.
9
Transfer onto the baking tray, brush with egg and spread with the sesame and nigella seeds. Repeat this process until all filling has been used up and then bake for 20 minutes or until the pastry is golden and the filling is hot.
To serve: Serve with the dill yoghurt.
Where to buy
Lurpak® Slightly Salted Butter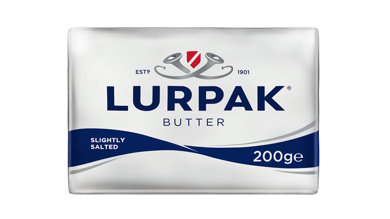 With Lurpak® by your side you're always ready to cook, bake and fry up wonders, cook. With its delicate taste, Lurpak® Slightly Salted Butter enhances the flavour of whatever food you add it to. From a hearty pasta dish, your showstopper fruit pie, to some simple rustic crushed potatoes, its subtle notes complement every creation you rustle up in the kitchen. For people who love Good Food, Lurpak® makes it even better. Now sleeves up. Today we cook bold.
Where to buy