Banana Muffins With Chocolate Ganache
Method
For the muffins:
1
Melt the Lurpak® butter and allow to cool without solidifying.
2
Beat the eggs, brown sugar and vanilla sugar into a fluffy mixture.
3
Mix the flour, desiccated coconut, baking powder and cinnamon together and fold it into the egg mixture.
4
Mash the bananas roughly and fold them into the mixture with the butter.
5
Grease the muffin moulds with a little extra butter and sprinkle them with some sugar.
6
Divide the mixture into the muffin moulds (fill them max. ⅔ full) and bake them in a preheated oven at 180C/160C fan/gas mark 4 for 25-30 minutes. Let the muffins cool on a wire rack and remove them once cooled.
For the chocolate ganache:
1
Bring the cream and Lurpak® butter to the boil.
2
Pour it over the chocolate and stir well.
4
Whisk to a creamy consistency.
5
Put it in a piping bag and pipe it onto the cakes.
6
Serve the muffins topped with chocolate ganache (piping bag).
Where to buy
Lurpak® Soft Light Salted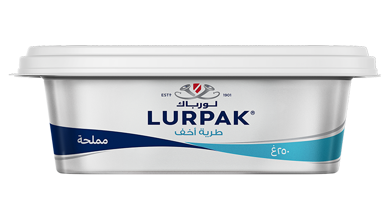 Lurpak® Soft Light Slightly Salted is the fusion of everything good. The slightly salted Lurpak® taste you love, simply with 25% less fat than your Lurpak® Soft. So, toast, baguette, sourdough, Lurpak® Soft Light Slightly Salted is always on hand to turn your simple sandwiches into something glorious. Spread your passion for Good Food with our spreadable that spreads straight from the fridge. The distinctive, creamy, delicate, and fresh taste of Lurpak®, but spreadable and light!
Where to buy
Where to buy
Lurpak® Unsalted Butter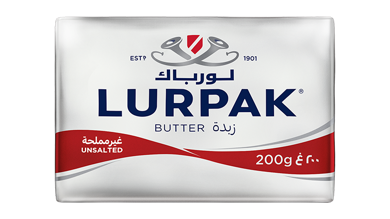 With Lurpak® by your side you're always ready to cook, bake and fry up wonders, cook. With its delicate taste, Lurpak® Unsalted Butter enhances the flavour of whatever food you add it to. From a hearty risotto dish, your weekend baking creations, to some simple earthy mushrooms, its subtle notes complement every creation you rustle up in the kitchen. For people who love Good Food, Lurpak® makes it even better. Now sleeves up. Today we cook bold.
Where to buy