SEMOLINA CAKE WITH CREAM (BASBOUSA)
1 hour 30 mins cooking time
Method
1
Mix the semolina, sugar, baking powder, bicarbonate of soda, salt, eggs, vanilla and yogurt together in a bowl.
2
Melt Lurpak® butter in a bowl over a pot of boiling water.
3
Add the melted butter to the semolina mixture and mix well to combine.
To make the cream:
1
Mix together the milk, corn starch, flour and sugar in a large pot. Keep stirring to avoid lumps.
2
Add the cream to the milk mixture and mix well to combine.
3
Grease a baking dish with Lurpak® butter, pour quarter of the basbousa dough inside the tray and bake in preheated oven for 10 minutes.
4
Pour all the cream and then layer with the rest of the basbousa dough.
5
Bake for 30 more minutes.
6
Garnish with crushed pistachios and serve.
Where to buy
Lurpak® Unsalted Butter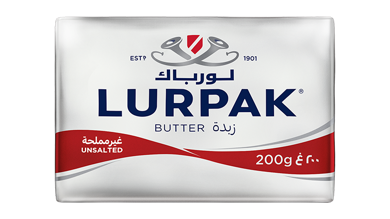 With Lurpak® by your side you're always ready to cook, bake and fry up wonders, cook. With its delicate taste, Lurpak® Unsalted Butter enhances the flavour of whatever food you add it to. From a hearty risotto dish, your weekend baking creations, to some simple earthy mushrooms, its subtle notes complement every creation you rustle up in the kitchen. For people who love Good Food, Lurpak® makes it even better. Now sleeves up. Today we cook bold.
Where to buy