Berry Cheesecake
4 hours 20 mins cooking time
Method
1
Soften the gelatine in cold water for approximately 10 minutes.
2
Meanwhile, blend the biscuits in a food processor until a fine crumb. Add the melted Lurpak® butter and pulse to combine.
3
Add the biscuit mixture to the base of springform cake tin with a diameter of approximately 20-22 cm. Smooth it out to completely cover the base and press down well.
4
Clean out the food processor bowl and then blend the cream cheese and condensed milk together until well combined.
5
In a separate small bowl add the pre-softened gelatine to the warm milk. Stir to combine. Add the gelatine mixture into the food processor and blend well to combine. Add the lemon juice and once again, blend to combine.
6
Pour the cream cheese mixture over the biscuit base. Cover the cake tin with plastic wrap and refrigerate for at least four hours. Serve the cheesecake topped with mixed berries of your choice – whatever is in season!
Where to buy
Lurpak® Soft Light Salted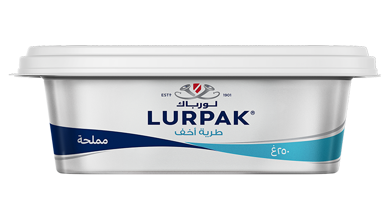 Lurpak® Soft Light Slightly Salted is the fusion of everything good. The slightly salted Lurpak® taste you love, simply with 25% less fat than your Lurpak® Soft. So, toast, baguette, sourdough, Lurpak® Soft Light Slightly Salted is always on hand to turn your simple sandwiches into something glorious. Spread your passion for Good Food with our spreadable that spreads straight from the fridge. The distinctive, creamy, delicate, and fresh taste of Lurpak®, but spreadable and light!
Where to buy