Method
Cake
1
Preheat the oven to 160°C.
2
Beat butter and sugar together on high-speed until well mixed.
3
Beat in the eggs one by one, mixing well before adding the next. Mix in vanilla.
4
Sift together flour, cocoa and baking powder, and mix gently the dry ingredients and milk into the butter mixture until well combined.
5
Grease a 22 cm round cake tin with butter and line the bottom with baking paper.
6
Pour the batter into the tin and smooth the surface.
7
Bake the cake approx. 60 minutes or until baked, and a skewer inserted in the middle comes out clean.
8
Let the cake cool completely before cutting it into 3 layers.
Cherry filling
1
Place the cherries in a saucepan with ½ of the water, sugar and lemon juice.
2
Cook at low to medium heat until the sugar is dissolved.
3
Mix the remaining water with corn starch and add it to the cherries.
4
Continue to cook at low heat while stirring – the mixture will thicken and look glossy.
5
It has the right texture when it clearly coats the back of a wooden spoon.
6
Remove from heat and add cherry syrup to taste.
7
Let the cherry sauce cool completely before assembling the cake.
Italian vanilla buttercream
1
Mix egg whites, sugar, and vanilla seeds in a metal bowl over simmering water.
2
Whisk constantly to dissolve the sugar until the mixture reaches 70°C. Use a thermometer for correct temperature.
3
Pour the mixture into another bowl and whisk on high-speed until the mixture cools down to room temperature. It needs to be cool enough for the butter to be added without melting.
4
Gradually add cold butter cubes while whisking on medium speed.
5
Add the salt and whisk until the buttercream is smooth, light and fluffy.
Assembling the cake
1
Place a cake layer on a serving plate.
2
Spoon on a liberal amount of cherry syrup to moisten the cake.
3
Spread out evenly a 1/3 of the buttercream and top with ½ of the cherry filling.
4
Place a second cake layer on top and repeat the process with cherry syrup, buttercream and cherry filling.
5
Place a third and final cake layer on top and gently press down to make the cake stable.
6
Decorate the top with the remaining buttercream and fresh cherries.
Where to buy
Lurpak® Unsalted Butter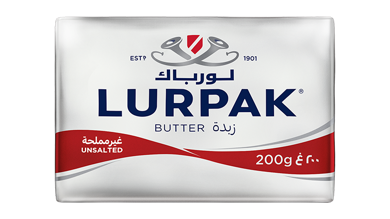 With Lurpak® by your side you're always ready to cook, bake and fry up wonders, cook. With its delicate taste, Lurpak® Unsalted Butter enhances the flavour of whatever food you add it to. From a hearty risotto dish, your weekend baking creations, to some simple earthy mushrooms, its subtle notes complement every creation you rustle up in the kitchen. For people who love Good Food, Lurpak® makes it even better. Now sleeves up. Today we cook bold.
Where to buy