Carrot Cake With A Cardamom And Orange Zest Buttercream
Method
1
Preheat oven to 180C/160C fan/ gas mark 4.
2
Grease and line 2 x 20cm cake tins.
3
In a large bowl beat together the melted Lurpak® butter, sugar and eggs until light and fluffy. You want the mixture to have almost doubled in volume.
4
Mix together the flour, bicarbonate of soda, salt and spices and gently fold these into the butter mixture, trying not to knock out any of the air.
5
Gently fold in the carrots and pistachios and divide the mixture evenly between the two tins.
6
Bake on the middle shelf of the oven for about 25-30 minutes, until a skewer comes out clean when inserted to the centre of the cake. Cool in the tin for 15 minutes and then turn out onto a wire rack.
7
To make the buttercream, beat the Lurpak® butter for about 5 minutes until very light and fluffy. Add in the icing sugar, cardamom and orange zest and beat again until fully mixed.
The secret to a light and fluffy buttercream
8
Finally, slowly add in the milk and beat, adding just enough to loosen the mixture.
9
Cover the top of the first cake with half of the buttercream and place the second cake on top. Then cover the top with the other half of the buttercream and sprinkle with chopped pistachios.
Where to buy
Lurpak® Unsalted Butter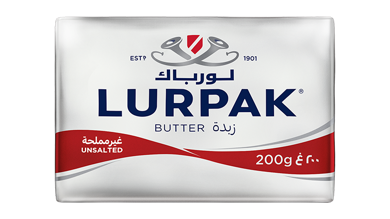 With Lurpak® by your side you're always ready to cook, bake and fry up wonders, cook. With its delicate taste, Lurpak® Unsalted Butter enhances the flavour of whatever food you add it to. From a hearty risotto dish, your weekend baking creations, to some simple earthy mushrooms, its subtle notes complement every creation you rustle up in the kitchen. For people who love Good Food, Lurpak® makes it even better. Now sleeves up. Today we cook bold.
Where to buy
Where to buy
Lurpak® Soft Light Salted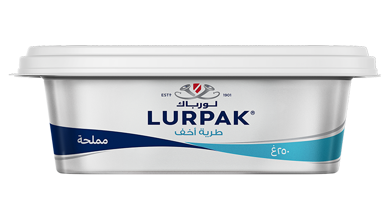 Lurpak® Soft Light Slightly Salted is the fusion of everything good. The slightly salted Lurpak® taste you love, simply with 25% less fat than your Lurpak® Soft. So, toast, baguette, sourdough, Lurpak® Soft Light Slightly Salted is always on hand to turn your simple sandwiches into something glorious. Spread your passion for Good Food with our spreadable that spreads straight from the fridge. The distinctive, creamy, delicate, and fresh taste of Lurpak®, but spreadable and light!
Where to buy