Chicken Maqluba
1 hour 30 mins cooking time
Method
1
Mix all spices with the washed rice and add 1 tbsp. of butter and set aside.
2
Sprinkle some salt over the sliced aubergines and set aside for 20 minutes to release the moisture.
3
Season the chicken with salt and pepper, then in a large pot, sear over a medium high heat until browned. Add the water until fully submerged, let it come to boil for about 20 minutes.
4
Once the aubergines have released their moisture, pat dry with kitchen towel, then bake in oven until browned for 20-25 minutes.
5
Once the chicken is cooked, remove it from the pot and set aside, reserving its water (stock).
6
To start layering, in a pot, brush some butter on the base then place all the tomato slices evenly, followed by the chicken pieces, then the aubergines, then the rice. You can add another layer of aubergine in-between the rice.
7
Add the stock (or water) on top of the rice, make sure the rice is submerged to about 1 cm. Allow it to come to boil over high heat, then reduce heat to low and cover to cook for 40-50 minutes, then add a tbsp. of butter to make the rice fluffier.
8
Remove from heat, allow it to rest for about 10 minutes in the pot before flipping.
9
Garnish with toasted nuts (which are toasted with a tbsp. of butter), chopped parsley, and serve with a side of cucumber yogurt salad.
Where to buy
Lurpak® Soft Light Salted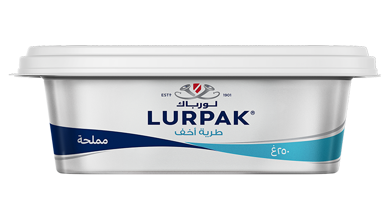 Lurpak® Soft Light Slightly Salted is the fusion of everything good. The slightly salted Lurpak® taste you love, simply with 25% less fat than your Lurpak® Soft. So, toast, baguette, sourdough, Lurpak® Soft Light Slightly Salted is always on hand to turn your simple sandwiches into something glorious. Spread your passion for Good Food with our spreadable that spreads straight from the fridge. The distinctive, creamy, delicate, and fresh taste of Lurpak®, but spreadable and light!
Where to buy