CHOCOLATE CHIP BUTTER COOKIES
Method
1
Knead all the ingredients together except the chocolate drops. Once a soft dough has formed, at the end add the chocolate drops. Shape the dough into a sausage with a diameter of about 5 cm.
2
Wrap the dough in foil then leave in the fridge for 20-30 minutes to rest.
3
Roll out the dough to about 1 cm thick, then cut to shape using a cookie cutter. Place on a baking tray lined with parchment paper.
4
Bake the cookies in a preheated oven at 175 degrees for 15 minutes until golden.
5
Leave to cool, then serve.
Where to buy
Lurpak® Unsalted Butter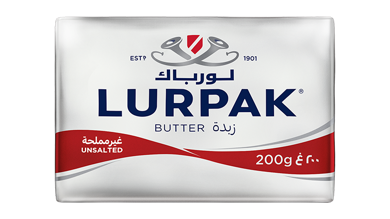 With Lurpak® by your side you're always ready to cook, bake and fry up wonders, cook. With its delicate taste, Lurpak® Unsalted Butter enhances the flavour of whatever food you add it to. From a hearty risotto dish, your weekend baking creations, to some simple earthy mushrooms, its subtle notes complement every creation you rustle up in the kitchen. For people who love Good Food, Lurpak® makes it even better. Now sleeves up. Today we cook bold.
Where to buy