CRISPY NEW POTATOES WITH ROSEMARY & GARLIC
Method
Preheat your oven to 200C/180C fan/gas mark 6.
1
Place the potatoes on a large baking tray and season with salt and freshly ground black pepper.
2
Melt the butter in a saucepan.
3
Bash the rosemary with a rolling pin and add half to the potatoes, then coat with a generous layer of butter. Save some butter for later.
4
Cook the potatoes in the oven for 10 minutes, then remove and coat with extra butter. Sprinkle over the remaining rosemary and garlic and return to the oven for a further 15 minutes until the potatoes are golden, crispy and cooked through.
Where to buy
Lurpak® Soft Light Salted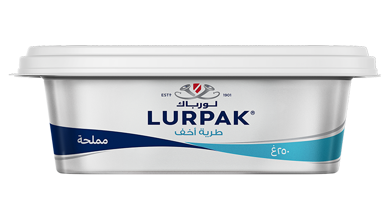 Lurpak® Soft Light Slightly Salted is the fusion of everything good. The slightly salted Lurpak® taste you love, simply with 25% less fat than your Lurpak® Soft. So, toast, baguette, sourdough, Lurpak® Soft Light Slightly Salted is always on hand to turn your simple sandwiches into something glorious. Spread your passion for Good Food with our spreadable that spreads straight from the fridge. The distinctive, creamy, delicate, and fresh taste of Lurpak®, but spreadable and light!
Where to buy