Date Ma'amoul
1 hour 30 mins cooking time
Method
1
To prepare the dough, pour the coarse semolina in a large bowl. Add the fine semolina and caster sugar. Mix to combine.
2
Melt the Lurpak® butter in a small sauce pan then pour it over the semolina mixture.
3
Make sure that the mixture is cool enough to handle with your hands then rub it thoroughly until it absorbs all the melted Lurpak® butter and is combined completely.
4
Cover the bowl with a clean tea towel. Let it rest overnight.
5
After the dough has rested for a night, add the mahlab and powdered milk.
6
Dissolve the yeast in the warm water until completely liquid.
7
Add it to the dough and mix the dough well with your hands.
8
Add the rose water and blossom water gradually, kneading the dough continuously until homogeneous and non-sticky. Set aside.
9
For the filling, deseed the dates and place them in a large bowl.
10
Add the cinnamon and anise. Mix well with your hands, rubbing it into paste.
11
To assemble the maamoul, preheat the oven to 180C/ 160C fan/gas mark 4.
12
Form small balls of the date paste and set aside on a plate.
13
Cut a small dough ball and flatten it with your hands. Stuff it with a date ball and close it up like a ball until the stuffing is sealed completely.
14
Stuff the ball in a wooden ma´amoul mould. Press it gently until it takes the shape of the hole.
15
Flip the mould and tap it on your hand or a flat surface to release the ma´amoul piece in its new shape.
16
Grease an oven tray with butter then place the ma´amoul pieces on it.
17
Bake in the preheated oven for 20 minutes or until golden.
18
Remove it from the oven and leave it aside to cool.
19
After the ma´amoul has cooled, sprinkle with icing sugar to serve.
Where to buy
Lurpak® Unsalted Butter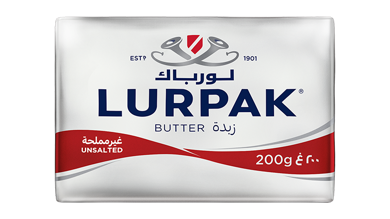 With Lurpak® by your side you're always ready to cook, bake and fry up wonders, cook. With its delicate taste, Lurpak® Unsalted Butter enhances the flavour of whatever food you add it to. From a hearty risotto dish, your weekend baking creations, to some simple earthy mushrooms, its subtle notes complement every creation you rustle up in the kitchen. For people who love Good Food, Lurpak® makes it even better. Now sleeves up. Today we cook bold.
Where to buy