Vanilla Cupcakes with Espresso Buttercream & Pecan Praline
1 hour 25 mins cooking time
Method
1
Preheat the oven to 160C/140C fan/gas mark 3.
Cupcakes
1
Mix the flour, sugar and baking powder in a bowl. Add Lurpak® butter, milk, eggs and vanilla to the dry ingredients and stir until well incorporated.
2
Divide mixture into a 12-piece cupcake pan lined with paper cups of your choice.
3
Bake the cupcakes approx. 25 minutes or until golden brown, and a skewer inserted in the middle comes out clean.
4
Transfer the cupcakes to a baking rack and let them cool before decorating.
Caramel syrup
1
Melt the sugar in a heavy-based pan over medium heat until golden. Don´t stir, just gently swirl the pan to help dissolve the sugar. Add the Lurpak® while stirring. Add the cream, bring to a boil and reduce slightly. Remove from heat and cool completely before using it on top of buttercream.
Pecan praline
1
Place sugar and water in a large heavy-based pan over high heat and cook 8-10 minutes until the sugar turns into a golden caramel.
2
Pour onto a baking tray lined with baking paper and tilt the tray so you get a thin and even layer. Sprinkle immediately with pecans and leave to set. Chop the praline roughly.
Espresso buttercream
1
Beat the Lurpak® butter on medium-speed until light and creamy. Gradually sift in the icing sugar and beat until completely smooth. Add the cooled espresso and beat on high-speed until fluffy. Place the buttercream in a piping bag fitted with a 1 cm star nozzle. Pipe out a generous rosette of buttercream on each cupcake.
The one trick to add any flavour to your buttercream
2
Drizzle with caramel syrup and sprinkle with pecan praline.
Where to buy
Lurpak® Unsalted Butter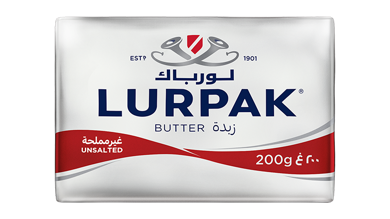 With Lurpak® by your side you're always ready to cook, bake and fry up wonders, cook. With its delicate taste, Lurpak® Unsalted Butter enhances the flavour of whatever food you add it to. From a hearty risotto dish, your weekend baking creations, to some simple earthy mushrooms, its subtle notes complement every creation you rustle up in the kitchen. For people who love Good Food, Lurpak® makes it even better. Now sleeves up. Today we cook bold.
Where to buy