Pizza With Feta Cheese, Capers And Rosemary
2 hours 35 mins cooking time
Method
1
Put water in a bowl with yeast. Add salt and flour and knead the dough by hand and wrap in cling film. Let it rest for a minimum of one hour.
2
Roll out the dough on a floured worktop into a rectangular pizza base. Place on a lined baking tray.
3
Cut the peppers into slices and lightly fry in butter.
4
Cube the feta cheese and scatter on the pizza base with the grated cheese, rosemary, capers and peppers. Top with ground black pepper.
5
Bake the pizza in a preheated oven at 250C/220C fan/gas mark 9 for about 8 minutes until it is crisp and golden brown.
To serve: Sprinkled with rocket or ramsons (wild garlic) to your liking
Where to buy
Lurpak® Soft Light Salted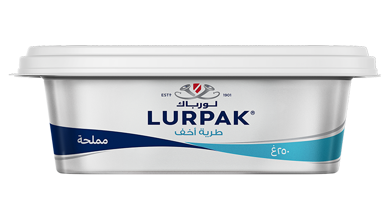 Lurpak® Soft Light Slightly Salted is the fusion of everything good. The slightly salted Lurpak® taste you love, simply with 25% less fat than your Lurpak® Soft. So, toast, baguette, sourdough, Lurpak® Soft Light Slightly Salted is always on hand to turn your simple sandwiches into something glorious. Spread your passion for Good Food with our spreadable that spreads straight from the fridge. The distinctive, creamy, delicate, and fresh taste of Lurpak®, but spreadable and light!
Where to buy