Method
1
Preheat oven to 200C/180C fan/gas mark 6.
To make the syrup:
1
Put all syrup ingredients into a small saucepan and bring slowly to the boil. When the sugar is melted lower the heat and simmer for 5 minutes or until the syrup thickens. Take off the boil and leave the spices in for the flavour to infuse.
To make the filling:
1
Mix the three cheeses together in a large bowl and set aside.
2
Put the Kadaif into a large bowl and separate into strands. Add the Lurpak ® butter and massage into the pastry until it is completely covered in the butter. Put half the pastry into the frying pan and then top with the cheese mixture, leaving a 1cm rim around the sides. Top with the remaining pastry.
3
Place the pan on a low heat and cook for 2 minutes just to give the pastry some colour. Moving the pan continuously so the pastry does not catch. Carefully turn over the Knafeh by placing a plate on top of the frying pan and flipping it. Put the Knafeh back into the pan and then cook the other side for 2 minutes.
4
Place in the oven for 10-15 minutes or until golden and hot.
5
Remove from the oven and pour over the syrup.
6
Top with the pistachios and serve.
Where to buy
Lurpak® Unsalted Butter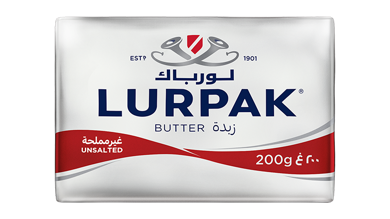 With Lurpak® by your side you're always ready to cook, bake and fry up wonders, cook. With its delicate taste, Lurpak® Unsalted Butter enhances the flavour of whatever food you add it to. From a hearty risotto dish, your weekend baking creations, to some simple earthy mushrooms, its subtle notes complement every creation you rustle up in the kitchen. For people who love Good Food, Lurpak® makes it even better. Now sleeves up. Today we cook bold.
Where to buy