Lemon Drizzle Cake
1 hour 30 mins cooking time
Method
1
Preheat oven to 170C/150C fan/gas mark 3.
2
Mix together flour, almond flour and salt, set aside.
3
Beat Lurpak® butter, sugar and lemon zest on high-speed for about 3 minutes. Beat in the eggs one by one, mixing well before adding the next. Add gradually the dry ingredients and milk to the batter while stirring.
4
Fold in poppy seeds and combine well.
5
Grease and line a large 24cm long cake tin and pour the cake batter into it.
6
Bake for approx. 1 hour and 15 minutes until golden brown and a skewer inserted in the middle comes out clean.
7
Leave the cake to rest 10 minutes before pouring over the hot lemon syrup in the tin.
8
For the lemon syrup, bring sugar and lemon juice to a boil in a saucepan. Boil for approx. 1 minute, then turn off heat.
9
Pour evenly over the cake while still in the tin. Let the cake cool completely before icing it.
10
For the lemon icing, stir together icing sugar and lemon juice until completely combined and smooth in consistency. Remove cake from tin and spread lemon icing on top with a small palette knife.
11
Sprinkle with poppy seeds and leave to dry before cutting the cake.
Where to buy
Lurpak® Unsalted Butter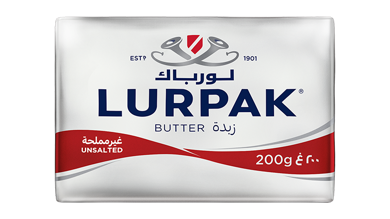 With Lurpak® by your side you're always ready to cook, bake and fry up wonders, cook. With its delicate taste, Lurpak® Unsalted Butter enhances the flavour of whatever food you add it to. From a hearty risotto dish, your weekend baking creations, to some simple earthy mushrooms, its subtle notes complement every creation you rustle up in the kitchen. For people who love Good Food, Lurpak® makes it even better. Now sleeves up. Today we cook bold.
Where to buy