CHOCOLATE RASPBERRY MASCARPONE TART
Method
PIE DOUGH
1
Combine flour, cocoa, sugar and salt in a large bowl. Using your fingers, mix the butter into the ingredients until the mixture is in pea-sized pieces. Add the water and mix until the dough comes together. Refrigerate for 2 hours.
2
Preheat oven to 180C/160C fan/gas mark 4.
3
Remove dough from fridge. Roll out the dough with a rolling pin on a floured surface. Place the pie plate on top of the dough and cut the dough around the plate to get the correct shape. Place the dough into the pie plate and gently push down to secure the dough.
4
Place a piece of baking paper on top of the dough and fill with baking beans. Place the pie plate in the freezer for 15 mins.
5
Remove pie from the freezer and bake for 25 mins. Allow the crust to cool completely.
FILLING
1
In a saucepan, bring the cream to the boil. Remove from heat, add the chopped chocolate and butter, and let rest for 5 minutes then stir until dissolved.
2
Add the mascarpone cheese and stir until combined. Pour the mascarpone filling over the crust and let set, preferably overnight. If you are short on time, place the filling in the fridge for 4 hours and then top with fresh raspberries.
To serve: Decorate with fresh raspberries.
Where to buy
Lurpak® Soft Light Salted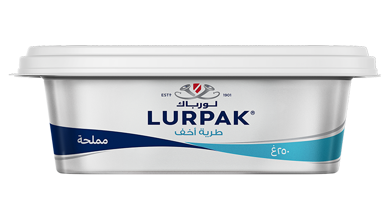 Lurpak® Soft Light Slightly Salted is the fusion of everything good. The slightly salted Lurpak® taste you love, simply with 25% less fat than your Lurpak® Soft. So, toast, baguette, sourdough, Lurpak® Soft Light Slightly Salted is always on hand to turn your simple sandwiches into something glorious. Spread your passion for Good Food with our spreadable that spreads straight from the fridge. The distinctive, creamy, delicate, and fresh taste of Lurpak®, but spreadable and light!
Where to buy