PAN-FRIED LAMB CHOPS WITH ROSEMARY & GARLIC
Method
1
In a large bowl, add the garlic, lemon zest, rosemary and lemon juice.
2
Add the lamb chops and season with salt and black pepper. Stir until all the ingredients are mixed well.
3
Heat a large sauté pan over a medium heat. Add butter and when it starts bubbling, add the lamb chops and cook for about 3 minutes on each side or until just pink in the centre.
4
Brush with the Dijon mustard and serve immediately.
Where to buy
Lurpak® Soft Light Salted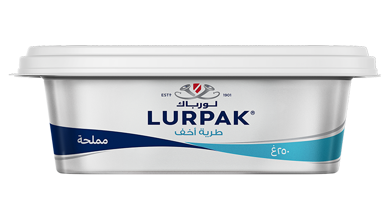 Lurpak® Soft Light Slightly Salted is the fusion of everything good. The slightly salted Lurpak® taste you love, simply with 25% less fat than your Lurpak® Soft. So, toast, baguette, sourdough, Lurpak® Soft Light Slightly Salted is always on hand to turn your simple sandwiches into something glorious. Spread your passion for Good Food with our spreadable that spreads straight from the fridge. The distinctive, creamy, delicate, and fresh taste of Lurpak®, but spreadable and light!
Where to buy