Pappardelle Pasta With Tiger Prawns
Method
1
Cook pasta according to the instructions on the packet, remove it from the water and keep it warm
How to cook perfect pasta
2
Fry the tiger prawns and garlic in Lurpak® butter for about 2 minutes, then add the cooked pasta and tomatoes and let it cook together for about 3-4 minutes.
3
Toss the pasta with the finely grated lemon rind and juice, season with salt and black pepper.
4
Serve in a dish with basil and grated cheese if desired.
Where to buy
Lurpak® Soft Light Salted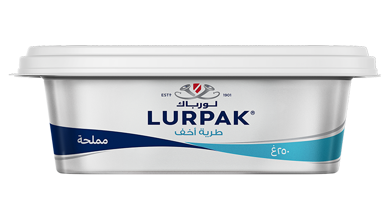 Lurpak® Soft Light Slightly Salted is the fusion of everything good. The slightly salted Lurpak® taste you love, simply with 25% less fat than your Lurpak® Soft. So, toast, baguette, sourdough, Lurpak® Soft Light Slightly Salted is always on hand to turn your simple sandwiches into something glorious. Spread your passion for Good Food with our spreadable that spreads straight from the fridge. The distinctive, creamy, delicate, and fresh taste of Lurpak®, but spreadable and light!
Where to buy