Profiterole Tower with Vanilla Cream & Chocolate Sauce
Method
1
Preheat the oven at 220C/180C fan/gas mark 6.
Vanilla custard
1
Bring milk, sugar and vanilla seeds slowly to a boil in a saucepan.
2
Place egg yolks and corn starch in a bowl and whisk with an electric mixer on high-speed for 2 minutes.
3
Add the boiling milk while whisking, then pour back the mixture into the pot and over the heat. Whisk approx. 1 minute – or till the custard starts to thicken.
4
Transfer to a bowl. Cover with cling film on the surface and place the custard in fridge until completely cooled before mixing with whipping cream.
Choux pastry
1
Line two baking trays with baking paper and set aside. Prepare a piping bag with a 1,5 cm round nozzle.
2
Bring water, Lurpak® butter and sugar to a boil in a saucepan. Add the flour and stir vigorously to a dough. Stir until the dough leaves the sides of the saucepan.
3
Transfer the dough to an electric mixer and cool a bit.
4
Add the eggs one at a time while mixing at medium speed. The pastry should be thick and quite sticky.
5
Fill the piping bag with the pastry and pipe 12 mounds (4 cm in diameter) onto each of the trays with space around each mound (the pastry will double in size while baking). Use a wet finger to gently push down any peaks.
6
Bake approx. 25 minutes or until golden brown. Do not open the oven while baking, it will make the pasty collapse!
7
Transfer to a baking rack and cool completely before filling.
Chocolate sauce
1
Place the chocolate in a bowl.
2
Warm up the cream to just below the boiling point and pour immediately over the chocolate.
3
Leave for two minutes, then stir until smooth. Cool the chocolate sauce slightly.
Cream
1
Whip the cream and mix gently with the custard.
2
Spoon the vanilla cream into a piping bag fitted with a small ½ cm round nozzle.
Serving
1
Poke a small hole with a knife in the bottom of each profiterole and fill each one with vanilla cream.
2
Stack the filled profiteroles on a cake stand in a round pyramid shape and pour over your slightly warm chocolate sauce just before serving.
Where to buy
Lurpak® Unsalted Butter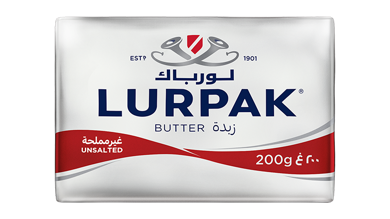 With Lurpak® by your side you're always ready to cook, bake and fry up wonders, cook. With its delicate taste, Lurpak® Unsalted Butter enhances the flavour of whatever food you add it to. From a hearty risotto dish, your weekend baking creations, to some simple earthy mushrooms, its subtle notes complement every creation you rustle up in the kitchen. For people who love Good Food, Lurpak® makes it even better. Now sleeves up. Today we cook bold.
Where to buy