Red Velvet Cake with cream cheese butter frosting
4 hours 30 mins cooking time
Method
Red velvet sponge
1
Preheat the oven to 175C/155C fan/gas mark 3.
2
Beat the Lurpak® butter and sugar until light and fluffy in a bowl.
3
Beat in the eggs one by one, mixing well before adding the next.
4
Add colouring, vanilla and vinegar and mix well.
5
Sift flour, corn starch, cocoa, baking powder and salt into a separate bowl.
6
Add half of the dry ingredients to the wet mixture and gently fold through with a rubber spatula.
7
Add the buttermilk and the remaining dry ingredients to avoid lumps in the batter. Fold gently till ingredients are well combined.
8
Grease a 22cm cake tin and line the bottom with baking paper.
9
Pour the batter into it and smooth the surface.
10
Bake the cake for approx. 70 minutes or until baked, and a skewer inserted in the middle comes out clean. Let the cake cool completely before cutting it into 3 sponge layers.
Cream cheese butter icing
1
Beat together cream cheese, Lurpak® butter and vanilla seeds.
2
Add icing sugar to the butter mixture gradually at low speed.
3
Keep the frosting in the fridge until assembling the cake.
Assembling the cake
1
Spread out evenly ¼ of the icing on one cake sponge.
2
Place a second cake sponge on top and repeat with another ¼ of the icing.
3
Place a third and final cake sponge on top and gently press down to make the cake stable and straight.
4
Spread out evenly remaining icing on top and sides of the cake. The surface should be completely covered.
5
Sprinkle the red velvet cake generously with crushed freeze-dried raspberries just before serving.
Where to buy
Lurpak® Unsalted Butter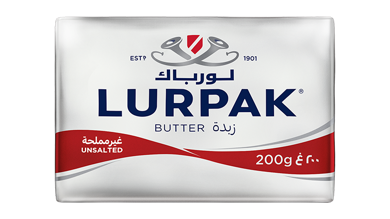 With Lurpak® by your side you're always ready to cook, bake and fry up wonders, cook. With its delicate taste, Lurpak® Unsalted Butter enhances the flavour of whatever food you add it to. From a hearty risotto dish, your weekend baking creations, to some simple earthy mushrooms, its subtle notes complement every creation you rustle up in the kitchen. For people who love Good Food, Lurpak® makes it even better. Now sleeves up. Today we cook bold.
Where to buy