SAFFRON BUTTER BUNDT CAKE WITH PISTACHIO AND RASPBERRY
2 hours 30 mins cooking time
Method
1
Pre-heat the oven to 180C/160C fan/gas mark 4.
2
Warm the milk gently in a pan and add the saffron. Leave to infuse off the heat for 20-30 minutes. Cover in cling to prevent a skin forming.
3
Grease the Bundt tin and set aside.
4
Cream the Lurpak® butter and sugar for 5 minutes until the mixture is fluffy and pale in colour.
5
Add in the eggs one at a time, beating just enough to incorporate into the butter and sugar mix and finally add in the vanilla essence, lemon zest and the infused milk then beat until you get a smooth batter.
6
Fold in the flour, salt and baking powder until the mixture is smooth.
7
Pour into the prepared Bundt tin, tap the tin gently on the work surface to remove any air bubbles and place in the oven for 40-45 minutes until golden and a skewer comes out clean.
How to tell if your cake is done
8
In the meantime, place the caster sugar in a pan with the water and on a very low heat let the sugar melt into the liquid. Turn up the heat and boil until the caramel turns a deep golden colour. Pour onto a lined baking tray (making it as thin as you can), sprinkle with the chopped pistachios and leave to cool completely.
9
Remove the cake from the oven and leave to cool in the tin for a few minutes before turning out and cooling on a wire rack.
10
Mix together the icing sugar and the lemon juice until there are no lumps. Take the pistachio brittle (if it's completely cooled) and break into pieces. Keep a few of these pieces for decoration and then with the rest, place in a food processor and blend to a fine mixture.
11
When the cake has completely cooled, decorate with the lemon icing, pistachio brittle crumb, pieces of the pistachio brittle and raspberries.
Where to buy
Lurpak® Unsalted Butter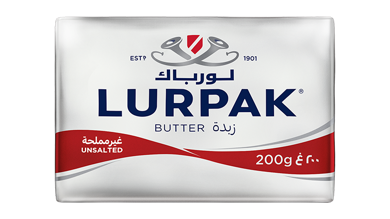 With Lurpak® by your side you're always ready to cook, bake and fry up wonders, cook. With its delicate taste, Lurpak® Unsalted Butter enhances the flavour of whatever food you add it to. From a hearty risotto dish, your weekend baking creations, to some simple earthy mushrooms, its subtle notes complement every creation you rustle up in the kitchen. For people who love Good Food, Lurpak® makes it even better. Now sleeves up. Today we cook bold.
Where to buy