WOK FRIED ASPARAGUS WITH SOYA AND GINGER
Method
1
Clean the asparagus by cutting 3cm off the ends.
2
Cut the garlic into fine, thin slices.
3
Peel the ginger and cut it into thin slices and then into thin strips.
4
Brown the Lurpak® butter in a wok with the garlic and ginger, when the garlic is golden, add the asparagus and fry it for 1 minute, add the oyster sauce and soya, toss it well together.
Where to buy
Lurpak® Soft Light Salted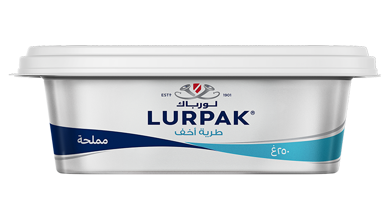 Lurpak® Soft Light Slightly Salted is the fusion of everything good. The slightly salted Lurpak® taste you love, simply with 25% less fat than your Lurpak® Soft. So, toast, baguette, sourdough, Lurpak® Soft Light Slightly Salted is always on hand to turn your simple sandwiches into something glorious. Spread your passion for Good Food with our spreadable that spreads straight from the fridge. The distinctive, creamy, delicate, and fresh taste of Lurpak®, but spreadable and light!
Where to buy