Walnut Ma'Amoul
1 hour 30 mins cooking time
Method
1
Mix the semolina in a bowl with Lurpak® butter. Mix well with your hands until all the semolina is coated in the butter. Cover and let it rest overnight.
2
Add the flour, oil, rose water, dissolved yeast, mahlab, cinnamon, sugar, and baking powder. Knead gently until well combined. Cover and let rest for 1 hour.
3
Mix the walnut with sugar and rose water. Mix to combine.
4
Preheat the oven to 175C/ 155C fan/gas mark 4.
5
Form small balls of the dough. Press and pat each ball and make a hole for filling. Fill it with 1 tbsp. of the walnut mixture. Close it then press it inside the wooden ma'amoul mould. Flip the mould over and hit the edge with a hard surface to get the ma'amoul piece out.
6
Bake in the preheated oven for 12-15 minutes or until golden.
7
Garnish with icing sugar and serve warm.
Where to buy
Lurpak® Unsalted Butter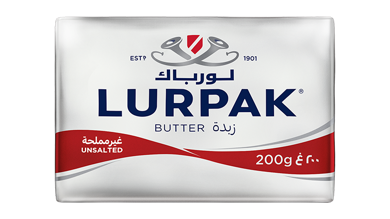 With Lurpak® by your side you're always ready to cook, bake and fry up wonders, cook. With its delicate taste, Lurpak® Unsalted Butter enhances the flavour of whatever food you add it to. From a hearty risotto dish, your weekend baking creations, to some simple earthy mushrooms, its subtle notes complement every creation you rustle up in the kitchen. For people who love Good Food, Lurpak® makes it even better. Now sleeves up. Today we cook bold.
Where to buy