ACHIEVE PERFECTION​
Getting that crispiness on your oven roasted potatoes or get that golden brown finish to your pan fried fish is now easier than you think.​
Oven roasting will never be the same again. With just a few sprays you can transform your roast potatoes into the crispiest ones yet, or see your chicken become more golden than ever.
Transform your roasted meals in just a few sprays with Lurpak® Roasting Spray.​
LOOKING TO PERFECT YOUR COOKING SKILLS?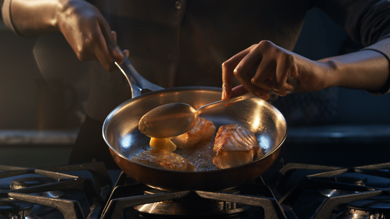 Triumph fish, master pasta or perfect pastry. Discover the little tricks that might just turn your cooking from simple into glorious.
Build your skills