LURPAK SOFT​
So Soft It Can Be Spooned

​
With Lurpak® Soft, your next cooking adventure is just a spoonful away.​
​Grab your trusty spoon and enjoy the rich taste of Lurpak® Soft butter. Straight out of the fridge, straight into your dish.​
FLAVOURFUL DISHES
It all starts with a little creativity​

Creating good food has never been easier.
So, what are you waiting for? Grab a spoon and cook!
TASTY DESSERTS
Whip up some delicious desserts to complete

your meal. Just grab some Lurpak® Soft and

enjoy
​
Ready straight from the fridge​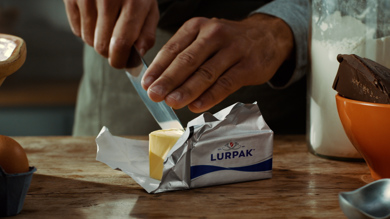 Made from butter and rapeseed oil, Lurpak® Soft is instantly ready to be spread, mixed or served.
Discover more