ONE PACK.

​
ENDLESS POSSIBILITIES.
​
With Lurpak® by your side and a few simple ingredients, there are always endless possibilities to create Good Food. Just one pack of Lurpak® unlocks the path to cookies, casseroles, curries, cakes and more.​
Whether you're cooking, baking or spreading, there are always endless possibilities.​
​
With Lurpak® by your side, whipping up a simple midweek supper has so many possibilities. So, grab your pan & with a healthy knob of Lurpak® transform everyday dishes into mouth-watering elevated dinners. Turn ordinary into extraordinary.​
Crack those eggs, throw the flour, build the flavour with a good measure of Lurpak, and show the world how baking is truly done. So many baking possibilities. Your journey starts here.​
With some freshly sliced bread and a little Lurpak® Spreadable there's no end to what you can create. ​ So, rummage your fridges and ready your chopping boards. These sandwich recipes are filled with tasty tips to add some extra yum. ​ Let's see what magic we can make.​
EXPLORE THE RANGE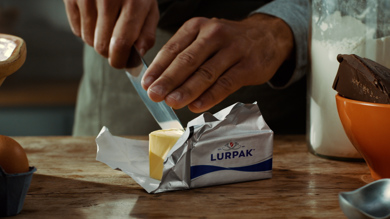 Salted, unsalted, spreadable or with added flavours, find your favourites here.
​SEE THE RANGE​