Chicken Stir-Fry in Hoisin sauce
Method
1
Put the chicken into a bowl and add the chopped ginger and garlic and mix together. Add the potato flour, season with salt and black pepper and mix it well with your hands to give the chicken a nice coating.
2
Melt the Lurpak® butter in a wok at a high temperature. Sear the coated chicken pieces till they are nice and golden. Add the carrots and spring onions and fry them for a few minutes. Add the soy sauce, hoisin sauce and sugar and let it simmer for a short while. Next add cashews and, should the glazing be too thick, a splash of water.
3
Season with salt and black pepper, and sprinkle with freshly chopped coriander leaves.
4
Serve immediately with some boiled jasmine rice.
Where to buy
Lurpak® Salted Cultured Butter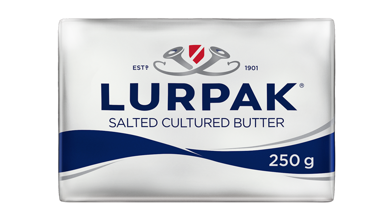 With Lurpak® by your side you're always ready to cook, bake and fry up wonders, cook. With its delicate taste, Lurpak® Salted Butter enhances the flavour of whatever food you add it to. From a hearty pasta dish, your showstopper fruit pie, to some simple rustic crushed potatoes, its subtle notes complement every creation you rustle up in the kitchen. For people who love Good Food, Lurpak® makes it even better. Now sleeves up. Today we cook bold.
Where to buy