Method
1
Spread butter on one side of each slice of bread.
2
Add a bed of gem lettuce.
3
Add slices of cheese and a slice of ham.
5
Close the sandwich butter side down, keeping the gherkins in place.
Where to buy
Lurpak® Salted Modified Cultured Butter Spread with Rapeseed Oil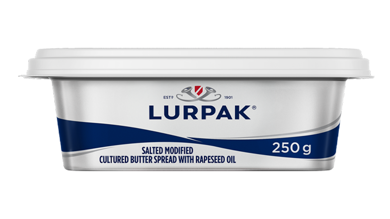 Toast, baguette, sourdough, crackers - get ready! Lurpak® Spreadable Salted is always on hand to turn your simple sandwiches into something glorious. Spread your passion for Good Food with our Lurpak® Spreadable Salted that spreads straight from the fridge. The distinctive, creamy, delicate, and fresh taste of Lurpak®, but spreadable!
Where to buy