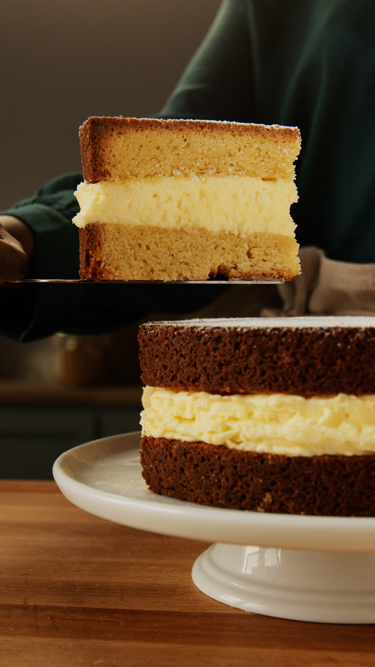 Make it moist
3 tips to ensure you rustle up a moist cake every time
Tips for moist and fluffy sponge cake
Sponge cakes. The light and airy, yet satisfying and indulgent treat. This popular type of cake is primarily made with eggs, a bit of sugar, and a toss of flour. What makes a sponge cake moist and fluffy? The winning combination of simple ingredients and a skilled hand creaming the sugar and butter makes sponge cakes perfect and ready for that little extra something like a heavy fruit topping. It makes it ready to exceed expectations.
Go with room temperature ingredients
Make sure that the butter you use is not too cold. Using cold butter can make you over-mix since it takes a long time to thoroughly mix butter, sugar and eggs. You can end up with a cake that is too heavy. Avoid all that by simply using room temperature ingredients. A tip is to cut the butter into cubes to speed up the temperature raising process. The same temperature advice goes for eggs – leave your eggs out of the fridge for about half an hour before using them. Cold eggs tend to not whip up as easily, while room temperature eggs create a fluffier mixture.
Whisk up colour and texture
You want your cake to be pale yellow and fluffy. Whisk that butter, whisk that sugar and take your time, cook. You avoid ending up with a dense cake if you take the time to do this properly. If it's crunchy from the sugar, it means it's not there just yet. Then whip again, cook. When baking your cake in the oven, if you notice butter seeping out of the dough it's often due to the fact that the butter and sugar has not been creamed well enough. You, cook, can whip up the perfect texture.
Prepare your tin. Prepare your oven.
Cover your tin in baking paper, butter up the sides, top off with butter on the baking paper and bake up wonders, cook. Preheat your oven. Preheating makes all the difference when it comes to baking. If your oven is too cold, you'll see that your cake will not rise enough. If the oven is too hot, your cake will rise too fast and collapse when you bake it. Check the baking time in your recipe – it usually depends on the size of the cake.
Prepare your batter. Bake straight away.
Bake your prepared batter immediately when it is ready. If you leave it too long before putting it in the oven it will impact the rise of the cake. This of course means that preheating your oven in good time is a must – make it ready to build your sweet, delicious masterpiece.
How to tell when your cake is cooked
First check the recipe recommendations on timings to get an idea. Then to check if your cake is ready to leave the oven, insert a skewer into the centre of the cake. If the skewer comes out clean, the cake is cooked. A cooked cake will also shrink and begin pulling away from the sides of the tin. Another indication is the lovely smell of freshly baked cake filling your kitchen. Enjoy, cook.