ARANCINI RICE BALLS
3 hours preparation time
3 hours 30 mins cooking time
BÉCHAMEL
1
Melt the Lurpak® Slightly Salted Butter in a saucepan, add the flour, stirring with a hand whisk to form the roux.
2
Add the warm milk, salt and nutmeg, continue mixing until firm. Season with salt and pour it into a bowl, covering it with cling film. Let it rest in the fridge.
RICE
1
Cook the water, orange juice, rice, saffron, salt and nuts over medium heat until the liquid has been absorbed and evaporated. Turn it off.
2
Season with a little bit of salt and add the butter cut into pieces, while stirring to help it melt.
3
Add the orange zest and cheese. Put it aside.
BATTER
1
Pour the water into the flour, stirring with a spoon until the mixture is. combined. Make it smoother with a mixer.
2
Take some cold rice and mash it on the palm of one hand, giving it a cylinder shape. Place 2 teaspoons of bechamel and a few cubes of mozzarella and ham on it. Cover with more rice and work with your hands to close it well.
3
Dip each rice ball in the batter and then place it in the breadcrumbs.
4
Fry in oil at 170C and, once golden, place them on a sheet of absorbent paper.
Where to buy
Lurpak® Slightly Salted Butter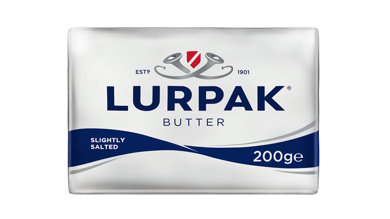 With Lurpak® by your side you're always ready to cook, bake and fry up wonders, cook. With its delicate taste, Lurpak® Slightly Salted Butter enhances the flavour of whatever food you add it to. From a hearty pasta dish, your showstopper fruit pie, to some simple rustic crushed potatoes, its subtle notes complement every creation you rustle up in the kitchen. For people who love Good Food, Lurpak® makes it even better. Now sleeves up. Today we cook bold.
Where to buy