MUSHROOM AND BLUE CHEESE QUICHE
YOU'LL NEED: 23cm tart case
Preheat your oven to 180C/160C fan/gas mark 4
1
To make the pastry, tip the flour and butter into a bowl, then rub together with your fingertips until completely mixed and crumbly (this can also be done by pulsing in a food processor until a breadcrumb consistency).
2
Add egg yolks and 4-5 tsp. of cold water, then bring everything together until just combined.
3
Shape the pastry into a ball and press down gently to create a disc shape. Cover with cling film and chill for half an hour in the fridge.
4
Roll out the pastry on a lightly floured surface to a circle 5cm larger than a 23cm tin. Use your rolling pin to lift it up, then drape over the tart case so there is an overhang of pastry on the sides. Push the pastry into the corners of the tin, prick the bottom a few times with a fork and chill in the fridge or freezer for a minimum of 20 minutes.
5
While the pastry is chilling, begin the quiche filling. Heat the butter in a pan and over high heat cook the mushrooms for 5 minutes or until soft. Reserve the cooking juices.
6
Take the tart case out of the fridge or freezer and line with a large circle of greaseproof paper or foil, then fill with baking beans.
7
Blind-bake the tart for 12 minutes, remove the paper and beans, then continue to cook for 5-10 minutes until golden brown. When the tart case is removed, turn the oven down to 160C/140C fan/gas mark 2.
8
Beat the eggs with a fork in a bowl, then gradually add the cream. Stir in the mushrooms, half the cheese and a bit of the watercress. Season with salt and pepper, then tip the filling into the tart case.
9
Dot the surface with the rest of the cheese and bake for 30-35 minutes until set and golden brown.
10
Leave to cool in the case and remove when fully set (this will help to stop the quiche from collapsing).
To serve: Top with the rest of the watercress. Enjoy!
Where to buy
Lurpak® Slightly Salted Butter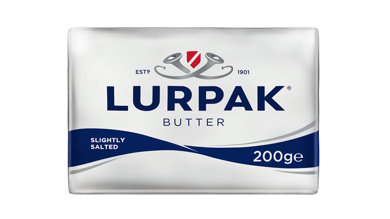 With Lurpak® by your side you're always ready to cook, bake and fry up wonders, cook. With its delicate taste, Lurpak® Slightly Salted Butter enhances the flavour of whatever food you add it to. From a hearty pasta dish, your showstopper fruit pie, to some simple rustic crushed potatoes, its subtle notes complement every creation you rustle up in the kitchen. For people who love Good Food, Lurpak® makes it even better. Now sleeves up. Today we cook bold.
Where to buy