CHEESE AND TOMATO SANDWICH
1
Slice the bread and butter two slices with butter.
2
Spread out the cheese slices on a buttered side of bread and top with the tomatoes.
3
Season with salt and freshly ground black pepper.
4
Top with the second slice of bread and cut in half. Enjoy immediately.
Where to buy
Lurpak® Lighter Slightly Salted Spreadable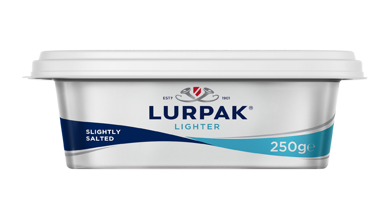 Lurpak® Lighter Slightly Salted Spreadable is the fusion of everything good. The slightly salted Lurpak® taste you love, simply with 25% less fat than your Lurpak® Spreadable. So, toast, baguette, sourdough, crackers - get ready! Lurpak® Lighter Spreadable Slightly Salted is always on hand to turn your simple sandwiches into something glorious. Spread your passion for Good Food with our spreadable that spreads straight from the fridge. The distinctive, creamy, delicate, and fresh taste of Lurpak®, but spreadable and light!
Where to buy