CHICKEN, RED LENTIL AND SPINACH CURRY
1
Over a medium heat melt 30g Lurpak® butter and cook the onions until softened and starting to brown slightly. Then add the garlic, garam masala, ground coriander, ground cumin, turmeric, ginger and cook for a couple of minutes to release the flavours of the spices.
2
Place the chicken in the pan with the spices and mix to evenly coat all the pieces and brown the chicken.
3
Add the dried lentils and cover with the stock or water. Bring to a boil and then reduce to a simmer. Cook for 20-25 minutes until the lentils are tender and just starting to break down.
4
In a separate medium sized frying pan, add 15g butter and when sizzling, add the cumin seeds, mustard seeds and curry leaves. Cook for 1 minute. Pour this mixture into the chicken. Season with salt and black pepper.
5
Add the remaining butter and the spinach and stir until the spinach has just wilted and Lurpak® butter melted. Serve with yoghurt and cooked basmati rice.
Where to buy
Lurpak® Slightly Salted Butter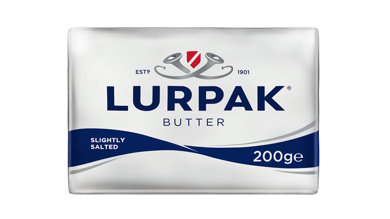 With Lurpak® by your side you're always ready to cook, bake and fry up wonders, cook. With its delicate taste, Lurpak® Slightly Salted Butter enhances the flavour of whatever food you add it to. From a hearty pasta dish, your showstopper fruit pie, to some simple rustic crushed potatoes, its subtle notes complement every creation you rustle up in the kitchen. For people who love Good Food, Lurpak® makes it even better. Now sleeves up. Today we cook bold.
Where to buy