COCONUT PANCAKES WITH POMEGRANATE AND YOGHURT
1
Begin by cracking the egg into a mixing bowl. Then add the flour and baking powder, before adding the milk and pinch of salt. Whisk until smooth, before adding the desiccated coconut into the mixture.
2
Meanwhile, cut your pomegranate in half, separate the seeds and drain on a tea towel to remove any excess water.
3
Put a large frying pan on a high heat and add half of your Lurpak® butter. Once it's bubbled, it's time to add a couple of spoonful's of your pancake batter. Cook for 1 to 2 minutes until it starts to bubble gently. Then flip and cook until golden on both sides. Repeat until you've used all your batter, adding a bit more butter to the pan when necessary.
4
Serve straight away with a spoonful of yoghurt, some pomegranate seeds and a sprinkling of lime zest.
Where to buy
Lurpak® Unsalted Butter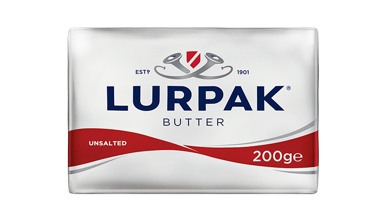 With Lurpak® by your side you're always ready to cook, bake and fry up wonders, cook. With its delicate taste, Lurpak® Unsalted Butter enhances the flavour of whatever food you add it to. From a hearty risotto dish, your weekend baking creations, to some simple earthy mushrooms, its subtle notes complement every creation you rustle up in the kitchen. For people who love Good Food, Lurpak® makes it even better. Now sleeves up. Today we cook bold.
Where to buy