HALLOUMI AND TOMATO SANDWICH
1
Pre-heat the oven to 200C/180C fan/gas mark 7.
2
Place the cherry tomatoes in a roasting tray and dot with 15g of butter. Season with salt and fresh black pepper and roast for 15 minutes or until the cherry tomatoes just begin to soften. Remove and set aside to cool.
3
Meanwhile, heat a small frying pan. When hot, add the halloumi slices and cook until brown on both sides. Remove and set aside on a plate.
To build the sandwich:
1
Spread the two slices of the sourdough with the remaining Lurpak® spreadable.
2
Scatter over the rocket leaves and top with the cherry tomatoes.
3
Add the slices of halloumi, drizzle with sambal and then add the final sliced bread.
Where to buy
Lurpak® Spreadable Slightly Salted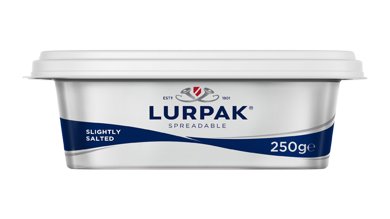 Toast, baguette, sourdough, crackers - get ready! Lurpak® Spreadable Slightly Salted is always on hand to turn your simple sandwiches into something glorious. Spread your passion for Good Food with our Lurpak® Spreadable Slightly Salted that spreads straight from the fridge. The distinctive, creamy, delicate, and fresh taste of Lurpak®, but spreadable!
Where to buy