MINI LEMON AND BLUEBERRY VICTORIA SPONGE CAKES
1 hour 30 mins cooking time
1
Preheat the oven to 190C/170C fan/gas mark 5.
2
Lightly grease a 12 cup mini cake tin.
3
Whisk the Lurpak® butter and sugar together with an electric whisk until light and fluffy.
4
Whisk in the eggs, one at a time and add the vanilla extract. If the mixture curdles, mix in a tablespoon of flour.
5
Fold in the flour gently to combine. Spoon half way up into the prepared tins and dot each cake with a couple of fresh blueberries. Reserve the rest for decoration.
6
Bake for 15 minutes on the middle shelf, making sure a skewer comes out clean.
How to tell if your cake is done
7
Leave the cakes to cool in the tin for 5 minutes and then remove and finish cooling on a wire rack.
8
In the meantime, whip the double cream to soft peaks. Add in the mascarpone, the icing sugar, lemon juice and zest and then continue whipping until stiff peaks. This will happen very quickly so be careful not to over beat the mixture.
9
Once the cakes have cooled completely, cut them in half horizontally and arrange spread the bottom half of each cake with a tablespoon of mascarpone cream, a tsp of blueberry jam and 3 fresh blueberries. Then sit the top half of the cake onto the blueberries.
10
Dust with icing sugar and serve.
Where to buy
Lurpak® Unsalted Butter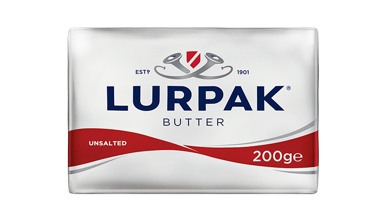 With Lurpak® by your side you're always ready to cook, bake and fry up wonders, cook. With its delicate taste, Lurpak® Unsalted Butter enhances the flavour of whatever food you add it to. From a hearty risotto dish, your weekend baking creations, to some simple earthy mushrooms, its subtle notes complement every creation you rustle up in the kitchen. For people who love Good Food, Lurpak® makes it even better. Now sleeves up. Today we cook bold.
Where to buy