ROAST TURKEY WITH A LEMON, SAGE AND LURPAK BUTTER GLAZE WITH A CRANBERRY GRAVY
4 hours 45 mins cooking time
1
Pre-heat the oven to 180C / 160C fan /gas mark 4.
2
Put the Lurpak® butter, lemon zest, sage and thyme in a bowl and season with salt and black pepper.  Beat with a fork until well combined and set aside.
3
Rub the herbed butter over the turkey breast and legs.  Place the turkey on a rack and pour the stock into the roasting tray.  Add the carrot, celery, garlic and rosemary to the stock.  Place the turkey on top and cover with foil.
4
Roast in the oven for 2 hours, basting every 20 minutes. Remove the foil and cook the turkey for a further 1½ hours. 
5
Check that the turkey is cooked by inserting a skewer or knife into the thickest part of the thigh.  If the juices run clear, then the turkey is ready.  If not, return the turkey to the oven and cook for a little longer.  Or much easier, use a probe.  The internal temperature should reach 70°c.
6
When the turkey is ready remove from the roasting tray and place on a serving dish.  Cover lightly with foil and leave to rest for 30 minutes.
7
Meanwhile, make the gravy.  Strain the juices from the roasting tray into a jug and skim off the fat. Add 2 tbsp of the fat back into the roasting tray and add the flour. Cook over a low heat, beating with a wooden spoon for a couple of minutes until the paste is golden. 
8
Slowly add the turkey juices, stock and wine stirring continuously until all the lumps have disappeared.  Bring to the boil and simmer for 5 minutes until thickened.  Stir in the cranberry jelly and cook for a further 2 minutes.  If the gravy is too thick, add a little more stock.
Where to buy
Lurpak® Slightly Salted Butter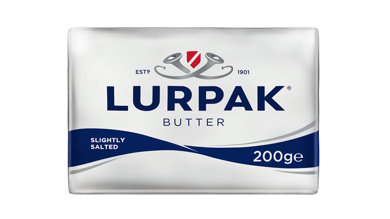 With Lurpak® by your side you're always ready to cook, bake and fry up wonders, cook. With its delicate taste, Lurpak® Slightly Salted Butter enhances the flavour of whatever food you add it to. From a hearty pasta dish, your showstopper fruit pie, to some simple rustic crushed potatoes, its subtle notes complement every creation you rustle up in the kitchen. For people who love Good Food, Lurpak® makes it even better. Now sleeves up. Today we cook bold.
Where to buy