1
Add the flour and salt to a large bowl. Make a well in the flour and add the eggs .
2
While mixing, add the milk by pulling the flour from the sides towards the middle of the bowl. Add vanilla extract and stir again. Let the batter rest for 30 minutes. If the batter is too thick, you can add a bit more milk.
3
Warm a large non-stick pan and add a bit of Lurpak® butter to coat the pan. Use a ladle to pour some batter in the pan. Tilt and turn the pan, so the entire surface is covered by a thin layer of batter. Fry for approx. 90 seconds at medium heat, you'll know its ready when it lifts easily. Flip the pancake and heat for another 90 seconds – Or until it is golden.
4
Serve the pancakes with freshly squeezed lemon juice & a sprinkle of sugar.
Where to buy
Lurpak® Slightly Salted Butter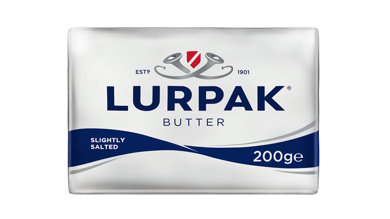 With Lurpak® by your side you're always ready to cook, bake and fry up wonders, cook. With its delicate taste, Lurpak® Slightly Salted Butter enhances the flavour of whatever food you add it to. From a hearty pasta dish, your showstopper fruit pie, to some simple rustic crushed potatoes, its subtle notes complement every creation you rustle up in the kitchen. For people who love Good Food, Lurpak® makes it even better. Now sleeves up. Today we cook bold.
Where to buy