1
Pre heat the oven to 200C/180C fan/gas mark 6.
2
Line a large baking tray with greaseproof paper.
3
Melt the Lurpak® butter in a small saucepan on a medium heat then add the chopped shallot. Cook until soft then set aside to cool. Do not brown the shallot.
4
In a large saucepan, wilt the spinach and watercress on a medium heat with a couple of tablespoons of water. Run under cold water to stop the cooking process then place in a sieve over a bowl and squeeze out as much water as possible.
5
Blitz the spinach/watercress, butter and shallot, lemon zest and crème fraiche in a food processor for a couple of short bursts. Season to taste with salt, pepper and freshly grated nutmeg.
6
On a lightly floured surface, cut the pastry in half and roll out each piece to roughly the size of your piece of salmon adding an inch on all sides.
7
Place one piece of pastry on the baking tray, spoon the spinach mixture down the middle and place the salmon on top.
8
Brush the pastry around with a little bit of water then place the other piece of pastry on top.
9
Mould the pastry around the fish with your hands then press the edges with a fork to seal.
10
Make a couple of small scores on the top with a knife then brush over the beaten egg.
11
Place in the oven for 25 minutes until golden.
Where to buy
Lurpak® Slightly Salted Butter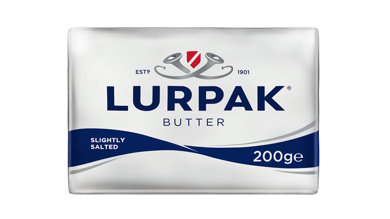 With Lurpak® by your side you're always ready to cook, bake and fry up wonders, cook. With its delicate taste, Lurpak® Slightly Salted Butter enhances the flavour of whatever food you add it to. From a hearty pasta dish, your showstopper fruit pie, to some simple rustic crushed potatoes, its subtle notes complement every creation you rustle up in the kitchen. For people who love Good Food, Lurpak® makes it even better. Now sleeves up. Today we cook bold.
Where to buy