1
Slice the salmon into 4 equal-sized pieces.
2
Put butter in a frying pan and heat until it becomes golden and bubbly before adding the salmon.
3
Sear the fish on both sides then pour soy sauce in. Allow the salmon to glaze from the reducing butter and soy and season with black pepper.
4
Rinse the broccoli and slice it into good sized bouquets. Fry them in oil in a separate pan.
5
Add crushed garlic and stir it into the broccoli. Season with salt and pepper.
6
Serve the fish on top of the broccoli and sprinkle with finely chopped baby red Swiss chard.
Where to buy
Lurpak® Slightly Salted Butter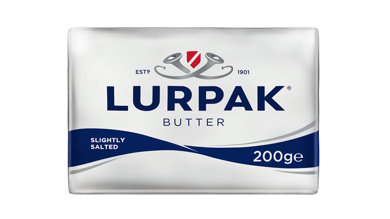 With Lurpak® by your side you're always ready to cook, bake and fry up wonders, cook. With its delicate taste, Lurpak® Slightly Salted Butter enhances the flavour of whatever food you add it to. From a hearty pasta dish, your showstopper fruit pie, to some simple rustic crushed potatoes, its subtle notes complement every creation you rustle up in the kitchen. For people who love Good Food, Lurpak® makes it even better. Now sleeves up. Today we cook bold.
Where to buy