SPICED CHRISTMAS CAKE
1 hour 40 mins cooking time
1
Mix all the dry ingredients together.
2
Stir the honey, melted butter and buttermilk well together.
3
Grease a springform tin (25cm in diameter) well with Lurpak® and sprinkle it with sugar.
4
Pour the mixture in the tin and bake it in a preheated oven at 175°C/155 ℃ fan/gas mark 4 for about 50-60 minutes. Check the cake with a skewer, when the mixture doesn't stick to it, the cake is finished. Put the cake on a wire rack to cool. Decorate the cake with holly and sprinkle with icing sugar, serve with coffee/tea or port.
How to tell if your cake is done
Where to buy
Lurpak® Unsalted Butter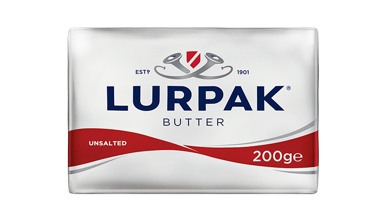 With Lurpak® by your side you're always ready to cook, bake and fry up wonders, cook. With its delicate taste, Lurpak® Unsalted Butter enhances the flavour of whatever food you add it to. From a hearty risotto dish, your weekend baking creations, to some simple earthy mushrooms, its subtle notes complement every creation you rustle up in the kitchen. For people who love Good Food, Lurpak® makes it even better. Now sleeves up. Today we cook bold.
Where to buy