Tsoureki (Greek Easter Bread)
1
Take out 50ml of milk and mix with the dry yeast and a tsp of sugar, then leave to rest for 15 minutes. 
2
In the meantime, add the butter cubes to the flour by rubbing the butter with your hands into the flour until it has a consistency like breadcrumbs. Add the sugar, orange zest, mahlepi, mastic and salt and fold it lightly.
3
Mix the beaten eggs with the rest of the lukewarm milk, pour the milk and eggs mixture into the flour and butter mixture, and knead it into a smooth dough. 
4
Leave to raise for 2-3 hours, or when double in size. 
5
On a floured surface take the dough out and divide into six evenly sized dough balls, about 260g each. Roll each dough ball out into a sausage-like shape. Take 3 pieces and braid them from the center and out from both sides. Repeat it with the remaining pieces so you have 2 braided breads. Place each tsoureki on a baking tray lined with baking parchment paper.  
6
Leave to rest in a warm place for about 1 hour.
7
Brush with a beaten egg twice and sprinkle with almond flakes. Bake at 200°C/180°C fan/ gas mark 6 for about 25 minutes. When baked, leave to cool on a wire rack before serving.
Where to buy
Lurpak® Unsalted Butter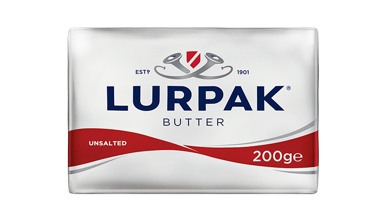 With Lurpak® by your side you're always ready to cook, bake and fry up wonders, cook. With its delicate taste, Lurpak® Unsalted Butter enhances the flavour of whatever food you add it to. From a hearty risotto dish, your weekend baking creations, to some simple earthy mushrooms, its subtle notes complement every creation you rustle up in the kitchen. For people who love Good Food, Lurpak® makes it even better. Now sleeves up. Today we cook bold.
Where to buy