BEETROOT, QUINOA AND BLACK BEAN BURGER WITH CHIPOTLE BUTTER AND SWEET CORN SALSA
1
Make the chipotle butter. Mix together the butter, chillis, lime juice and zest. Season with a little pinch of salt and pepper. Place in the centre of a piece of cling film and form into a log shape.
2
Chill for at least 45 minutes to an hour until firm. This can be made a couple of days in advance and kept in the fridge.
3
To make the burger, melt the butter in a pan and add the onions. Cook on a medium heat until softened and then add the mushrooms until just cooked through.
4
Transfer the onions to a bowl and add the black beans. Mash this together with a fork until smoother but with some texture through it.
5
Add in the quinoa, beetroot, cumin, chilli powder and paprika and mix until evenly combined. Add the ground walnuts and shape into even sized patties, approx. Place in the fridge for 30 minutes.
6
Preheat your oven to 190°C/fan 170°C /gas 5.
7
For the sweet corn salsa simply place all of the ingredients in a bowl and season with salt and pepper.
8
Remove the patties from the fridge and place on a lined baking sheet. Cook for 25-30 minutes.
9
Serve on a bun with rocket, a slice of the chipotle butter and a spoonful of the sweet corn salsa.
Where to buy
Lurpak® Slightly Salted Butter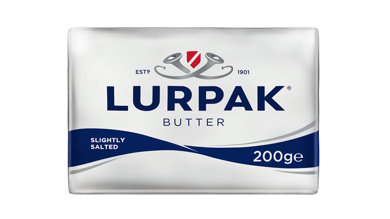 With Lurpak® by your side you're always ready to cook, bake and fry up wonders, cook. With its delicate taste, Lurpak® Slightly Salted Butter enhances the flavour of whatever food you add it to. From a hearty pasta dish, your showstopper fruit pie, to some simple rustic crushed potatoes, its subtle notes complement every creation you rustle up in the kitchen. For people who love Good Food, Lurpak® makes it even better. Now sleeves up. Today we cook bold.
Where to buy
Where to buy
Lurpak® Lighter Slightly Salted Butter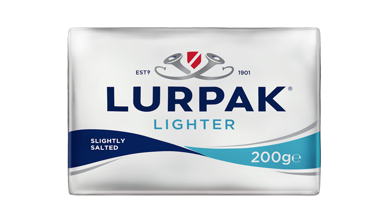 Lurpak® Light butter is greatness forged from simplicity. Made with only 3 natural ingredients, Lurpak® Light butter is the Lurpak® butter you love, simply light. So grab a board, pot, pan or tray, and discover the beauty of simplicity. The humble artichoke, the unassuming mussel, the simple tomato. Modest ingredients. But bring them together with a little Lurpak® Lighter and true greatness can be forged. Master simplicity with Lurpak® Lighter and a few natural ingredients.
Where to buy