CURRY
1
Chop the onion, garlic and ginger finely. Slice the chilli in half and remove the seeds carefully then slice the remaining chilli.
2
Fry onion, garlic, ginger and chilli in butter for 10-12 minutes at low heat. Add curry paste and keep frying for an extra couple of minutes. Add coconut milk and put the lid on.
3
Separate the cauliflower in small bouquets. Peel the carrots and cut them into angled pieces. Cut the pepper and the sugar snap peas in the same way but keep separate.
4
Add the cauliflower and carrot to your pot of curry base and simmer for a few minutes. Then stir in the pepper, sugar snaps and spinach and let them soften. Be careful not to cook them too much to avoid sogginess.
5
Mix in the sugar and lime juice and a pinch of salt.
To serve: Sprinkle fresh coriander and cashews on top.
NAAN BREAD
1
Start by dissolving the yeast in lukewarm water. Add sugar, salt and yoghurt and stir it together.
2
Bit by bit, alternately add flour and melted butter (saving some butter for topping) and stir it until it becomes a smooth dough. It takes about 10 minutes to make the dough nice and elastic. Cover your dough with a dish towel and let it rest for 30 minutes.
3
Divide the dough into smaller chunks and roll them flat into an oval shape. Let them rest and rise for 10 minutes, then press indents in the dough with your finger or with a fork. Sprinkle with salt and heat up a pan.
4
In a dry pan, fry them for 5-7 minutes on each side until they become golden.
5
Mix cumin and garlic with melted butter and brush the Naan bread with the seasoned butter.
To serve: Sprinkle with salt.
Where to buy
Lurpak® Slightly Salted Butter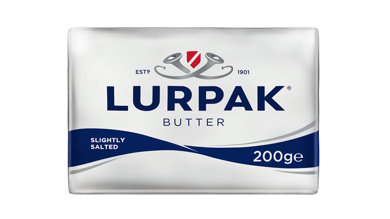 With Lurpak® by your side you're always ready to cook, bake and fry up wonders, cook. With its delicate taste, Lurpak® Slightly Salted Butter enhances the flavour of whatever food you add it to. From a hearty pasta dish, your showstopper fruit pie, to some simple rustic crushed potatoes, its subtle notes complement every creation you rustle up in the kitchen. For people who love Good Food, Lurpak® makes it even better. Now sleeves up. Today we cook bold.
Where to buy