Carrot cake
1 hour 40 mins cooking time
Method
1
Preheat the oven to 160C/140C fan/gas mark 3.
2
Whisk eggs, sugar and vanilla seeds on high-speed until tripled in volume.
3
In a separate bowl, mix the almond flour, cinnamon, ginger, nutmeg and baking powder with carrots and walnuts.
4
Add gradually the dry ingredients and the melted Lurpak® butter to the egg mixture and stir well until combined.
5
Grease a 24cm round baking tin and line the bottom with baking paper. Pour the batter into it and smooth the surface. Bake for approx. 1 hour and 20 minutes or until baked, and a skewer inserted in the middle comes out clean.
How to tell if your cake is done
6
Let the cake cool completely before adding the frosting.
7
Whisk cream cheese and icing sugar for 5 minutes – or until light and fluffy. Add lemon juice and mix well.
8
Spread cream cheese icing on top of the cooled cake and sprinkle with chopped walnuts.
Where to buy
Lurpak® Unsalted Butter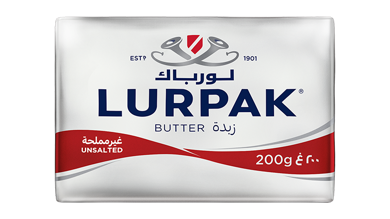 With Lurpak® by your side you're always ready to cook, bake and fry up wonders, cook. With its delicate taste, Lurpak® Unsalted Butter enhances the flavour of whatever food you add it to. From a hearty risotto dish, your weekend baking creations, to some simple earthy mushrooms, its subtle notes complement every creation you rustle up in the kitchen. For people who love Good Food, Lurpak® makes it even better. Now sleeves up. Today we cook bold.
Where to buy