CHEESE FATAYER
1 hour 30 mins cooking time
Method
To make the dough
1
Mix the flour with sugar, yeast and salt. Then add the Lurpak® butter and mix well.
2
Pour in the water gradually until the dough forms. Knead the dough for about 5 minutes.
3
Grease a large bowl with Lurpak® butter and place the dough in it. Brush the top with some butter.
4
Cover the bowl and let it rest for 15 minutes.
To prepare the cheese filling
1
In a large bowl, mix the cheese with chopped mint leaves.
2
Sprinkle the work surface with flour and knead the dough.
3
Cut the dough into small balls. Roll each dough ball into an oval shape.
4
Spread one tablespoon of filling in the centre of each dough.
5
Fold one edge of the dough over diagonally and press it gently to seal it properly. Repeat the process with the other edge leaving an opening in the centre to get the boat shape.
6
Brush all the fatayer with melted butter before putting in the oven. Bake in the preheated oven at 180C/160C fan/gas mark 4 for 15-20 minutes or until golden.
Where to buy
Lurpak® Unsalted Butter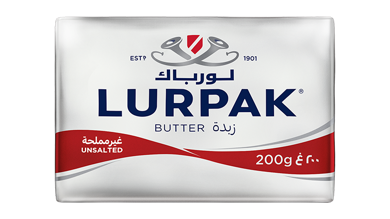 With Lurpak® by your side you're always ready to cook, bake and fry up wonders, cook. With its delicate taste, Lurpak® Unsalted Butter enhances the flavour of whatever food you add it to. From a hearty risotto dish, your weekend baking creations, to some simple earthy mushrooms, its subtle notes complement every creation you rustle up in the kitchen. For people who love Good Food, Lurpak® makes it even better. Now sleeves up. Today we cook bold.
Where to buy