STICKY DATE CAKE WITH TOFFEE SAUCE
Method
DATE CAKE​​
Preheat oven to 180C/165 fan/gas mark 4.
1
Grease a cake tin (7cm deep, 22cm diameter base) and line the base with baking paper.
2
Soak dates and bicarbonate of soda in boiling water. Leave it uncovered for 20 minutes or until dates are tender.
3
Using an electric mixer, beat butter, brown sugar and vanilla until pale and creamy. Add eggs, one at a time, beating well after each addition. Using a large spoon, stir in date mixture and flour. Mix until well combined.
4
Spoon the mixture into the cake tin. Bake for 40 to 45 minutes or until a skewer inserted into the centre comes out clean. Rest for 10 minutes before turning onto a wire rack.
TOFFEE SAUCE
1
Stir the butter, cream and sugar in a saucepan over medium heat, until the sugar is dissolved. Let it boil and cook for 8–10 minutes or until the sauce thickens slightly.
2
Serve the sauce hot with the date cake warm or at room temperature. Serves 6-8.
Where to buy
Lurpak® Soft Light Salted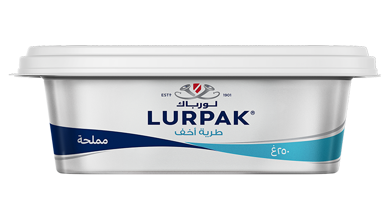 Lurpak® Soft Light Slightly Salted is the fusion of everything good. The slightly salted Lurpak® taste you love, simply with 25% less fat than your Lurpak® Soft. So, toast, baguette, sourdough, Lurpak® Soft Light Slightly Salted is always on hand to turn your simple sandwiches into something glorious. Spread your passion for Good Food with our spreadable that spreads straight from the fridge. The distinctive, creamy, delicate, and fresh taste of Lurpak®, but spreadable and light!
Where to buy
Where to buy
Lurpak® Unsalted Butter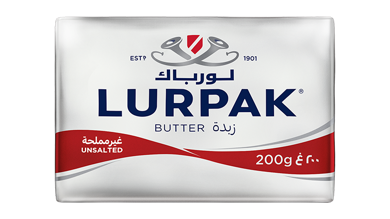 With Lurpak® by your side you're always ready to cook, bake and fry up wonders, cook. With its delicate taste, Lurpak® Unsalted Butter enhances the flavour of whatever food you add it to. From a hearty risotto dish, your weekend baking creations, to some simple earthy mushrooms, its subtle notes complement every creation you rustle up in the kitchen. For people who love Good Food, Lurpak® makes it even better. Now sleeves up. Today we cook bold.
Where to buy